Now Logitech's G Cloud Gaming Handheld has been officially unveiled the obvious thing to do it see how it stacks up against the popular Steam Deck from Valve. And having done just that, it's obvious that Logi's console wins in several areas that you might not have predicted. 
In a way, the G Cloud also rivals the Nintendo Switch, but the Steam Deck feels – and looks – like a closer rival to Logitech's handheld console so that's what I'm focusing on here. 
1. Price 
Let's start with how much these devices cost. You might think it's irrelevant as both consoles have the same RRP of $349, but Logitech is selling the G Cloud for $299 up until the launch date of 17 October.
Assuming Logitech doesn't have the same issues as Valve, you won't have to wait months and months for it to arrive either. 
2. Size & weight 
It's well known that the Steam Deck is a bit of a beast. Put it in the supplied carry case and into your rucksack and you'll barely have room for anything else in there. 
The Deck weighs 669g but Logitech has somehow managed to keep the G Cloud Gaming Handheld to a more manageable 463g – over 30% lighter. 
It's also more compact, despite having the same screen size, at 257 x 117 x 33mm compared to the Steam Deck's 298 x 117x 49mm. And those G Cloud numbers are rounded up! 
3. Screen 
The G Cloud's 7in screen outpaces the Steam Deck in a couple of ways. 
First, it has a higher resolution of Full HD (1920 x 1080) compared to HD (1280 x 800) so you get a much higher number of pixels per inch – 315ppi compared to 215ppi. 
Second, Logitech quotes a higher brightness level of 450 nits, which is 50 nits more than Valve. It's not a huge difference, but brighter is better.
4. Services & Apps 
This might seem obvious for a device built around cloud gaming but the G Cloud has much better access to services and apps than the Steam Deck. It's got Xbox Game Pass, Nvidia GeForce Now, Steam Link and Google Play. 
Granted, you can get Xbox Game Pass on the Steam Deck but it's not native as you need to use Microsoft's Edge browser as a workaround. 
Google Play, though, is a real highlight as it means you can play Android games as well as run apps including Chrome and YouTube. And that makes the G Cloud a much more versatile device. 
5. Battery Life 
Valve quotes a battery life of 2-8 hours for the Steam Deck and I don't know anyone getting close to the upper figure, especially when gaming. 
The Logitech can run for a lot longer: four full hours more than Valve's optimistic eight-hour claim. Logitech says the G Cloud will manage 12+ hours.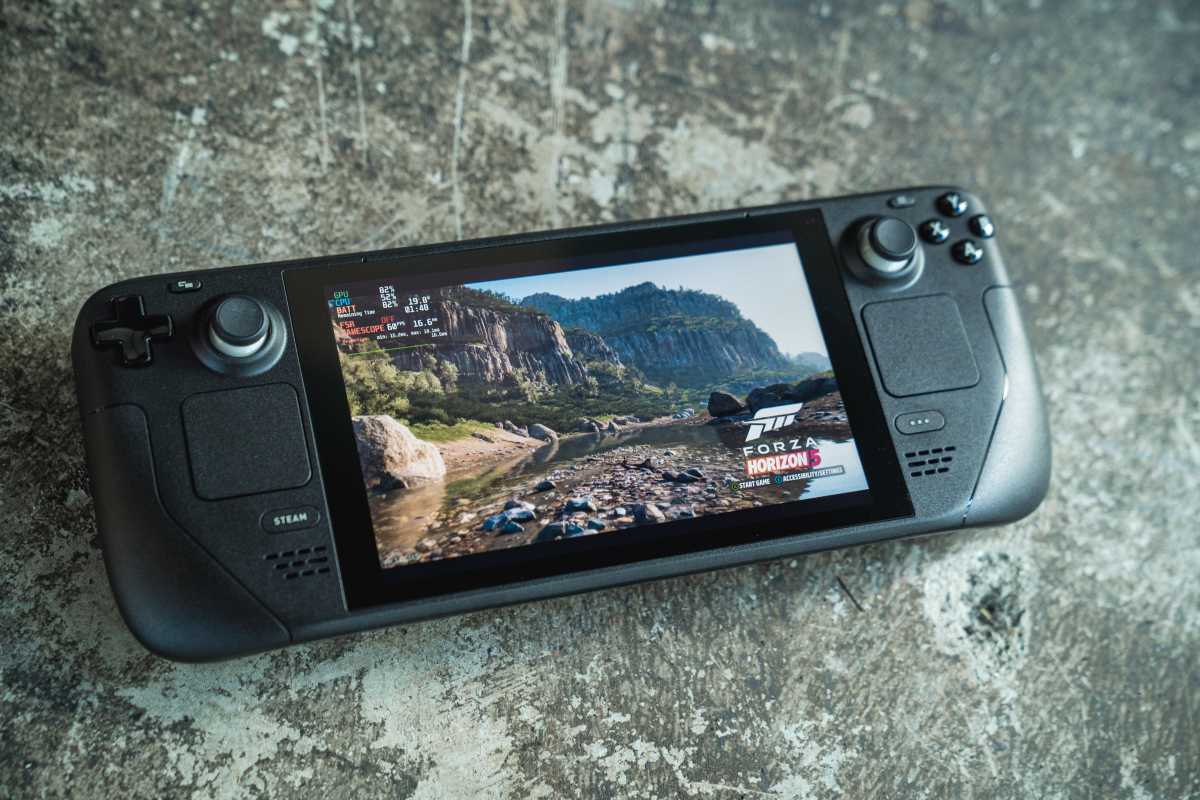 Willis Lai/IDG
Is the Logitech G Cloud a no-brainer? 
Logitech's handheld might have won those particular battles, but the G Cloud Gaming Handheld doesn't beat the Steam Deck on everything. 
While they look almost identical, they have very different approaches to gaming. As the name suggests, the G Cloud is designed for cloud gaming and as such has a smartphone-level processor (a Qualcomm Snapdragon 720G). 
It doesn't need more power, because Nvidia's GeForce Now service does all the grunt work. This, as well as Xbox Game Pass, both require you to subscribe in order to play games so it's important to bear those extra costs in mind.
It's also worth noting that that the G Cloud doesn't have 5G for an internet connection when you're away from a Wi-Fi network.
The Steam Deck might not have the greatest battery life but it's a powerful device with an AMD APU that uses Zen 2 architecture and has 16GB of RAM. That means you don't need a good internet connection for games to run smoothly, wherever you happen to be. 
Plus, since the Steam Desk is a Valve device, it's also better suited to those with big libraries of Steam games rather than those who want to sign up to Xbox Game Pass.