From the early days of Sony Trinitron through to its current Bravia 4K fleet, Sony has been synonymous with high quality TVs, and with good reason. This technology powerhouse is able to draw on its professional broadcast division and Sony Pictures expertise when fine-tuning new TVs; it uniquely offers what it likes to describe as 'a lens to living room' production chain. 
Hyperbole maybe, but there's something undeniably cool about watching Spider-Man No Way Home, shot with Sony cameras, on a Sony 4K TV at home. You really feel you're getting close to what the director intended.  
And if you own a PlayStation, then a Sony screen seems a natural partner for that too! 
The Japanese giant offers a wide range of sets, from low-cost LCD LED models to premium OLED performers. It also favours a broad selection of technologies – LED, Mini LED, OLED, even QD-OLED so there's something for everyone.  
Under the hood, there's a good deal of cutting-edge commonality. Sony is a front runner when it comes to picture processing, and with its premium Cognitive Processor XR, used across all its premium screens, has devised a revolutionary new approach to image processing that applies enhancement that mimics how your eyes naturally focus. 
Cognitive processing divides the screen into numerous zones and then detects where the 'focal point' is in the picture. It can cross-analyse an array of elements at once, adjusting each in synchronisation. Images look sharp but naturalistic. 
It's also an innovator in TV sound. Sony OLED screens feature an Acoustic Surface Audio system, which uses actuators that vibrate the glass panel itself. 
Sony TVs are also the first with a new derivation of the Android TV smart platform, Google TV. Streaming service support is comprehensive including Netflix, Prime Video, Apple TV+ amongst others. It's also compatible with Google Assistant and Chromecast. 
In this guide we'll navigate Sony's 2021/22 models, where prices vary from $499/£499 to $9,999/£9,499 and highlight key features and attributes so you know how they all differ. Read on to discover your next Sony TV… 
Sony LCD LED (X7/X8) 
Sony's X80 series represent the obvious jumping-on point for 4K HDR in Sony's 2022 line up. There's a variety of model numbers in its X8- series, with only minor differences between each model. The good news is you'll often find them at advantageous prices, and in a wide variety of screen sizes. 
The X80K is the cheapest Sony 8-series screen but it's good looking in a generic sense, and the feature spec is more upmarket than you might expect, with Dolby Vision HDR benefitting from Sony's X1 processor and wideband Triluminos Pro colour. Ambient Optimisation utilises a light sensor to automatically adjust image settings depending on ambient room lighting conditions.  
 
It's also Dolby Atmos sound compatible. Something you'll find on all models up from here. 
The X80K is available in screen sizes from 43- to 75in. As you might expect, it doesn't offer any high spec gaming support, but for casual console use it's fine. There are four HDMI inputs, have ALLM and eARC support. 
Note that you can drop to the slightly cheaper X72K if you need something as cheap as possible and bear in mind that J is for 2021 models and K is for 2022.
Best for: Living rooms, non-critical gaming and kids rooms. 
Models to choose from: 
X72K
X80J
X81J
X80K
X81K
X85J
X85K
X89J
X89K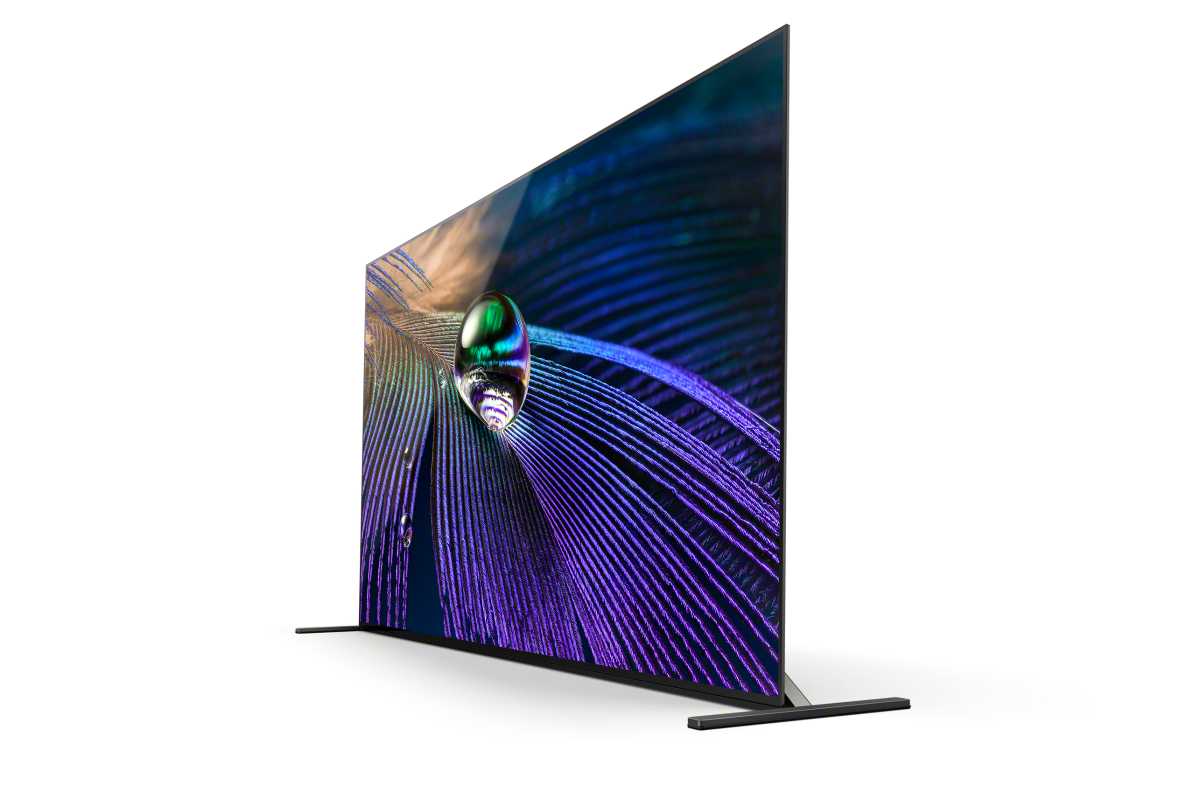 Sony
Sony LCD LED (X9)
$1,399/£1,199 to $2,799/£2799 
55-85in
4K
LCD LED 
View at Sony.com
These 9-series models signpost a move from entry to mid-range performance for Sony's 2022 TV range, and introduce some new, significant technologies in the process. 
The most obvious performance bump over the brand's 8-series is the introduction of Sony's powerful Cognitive Processor XR, which uses AI to upgrade image processing and enable AR sound processing.  
A Full Array LCD panel on the X9-models offers precise HDR handling. In addition to Dolby Vision,  there's a Netflix Calibrated Mode (basically a cinema mode for Netflix) and IMAX Enhanced certification. 
Available in four screen sizes, from 50- to 85in, the X90K also ushers in 4K 120fps, alongside ALLM and eARC. 
Best for: Living rooms, high-end gaming and home cinema. 
Models to choose from: 
Sony
Sony Mini-LED 
With the X95K range, Sony moves to Mini-LED. This new Backlight Master Drive technology which affords far superior contrast and black level, with more near shadow detail, enhanced mid-tone presentation and much more dynamic HDR.
The X95K is only available in super large screen sizes in the UK (75- and 85in) which puts the glass firmly into premium price territory. US Buyers have the option of a 65-inch model, XR-65X95K. 
The X95K also uses the brand's Cognitive Processor XR processor, while sound is handled by Sony's Acoustic Multi-Audio speaker configuration. It makes for a great bright room big-screen TV.  
The set is also one of the brand's Perfect for PlayStation models. Couple it to a PS5 and the TV will use Auto HDR tone mapping to optimise picture performance; there's also HFR (High Frame Rate) support for 4K 120fps gameplay. 
Best for: Home cinema and high-end gaming.  
Models to choose from: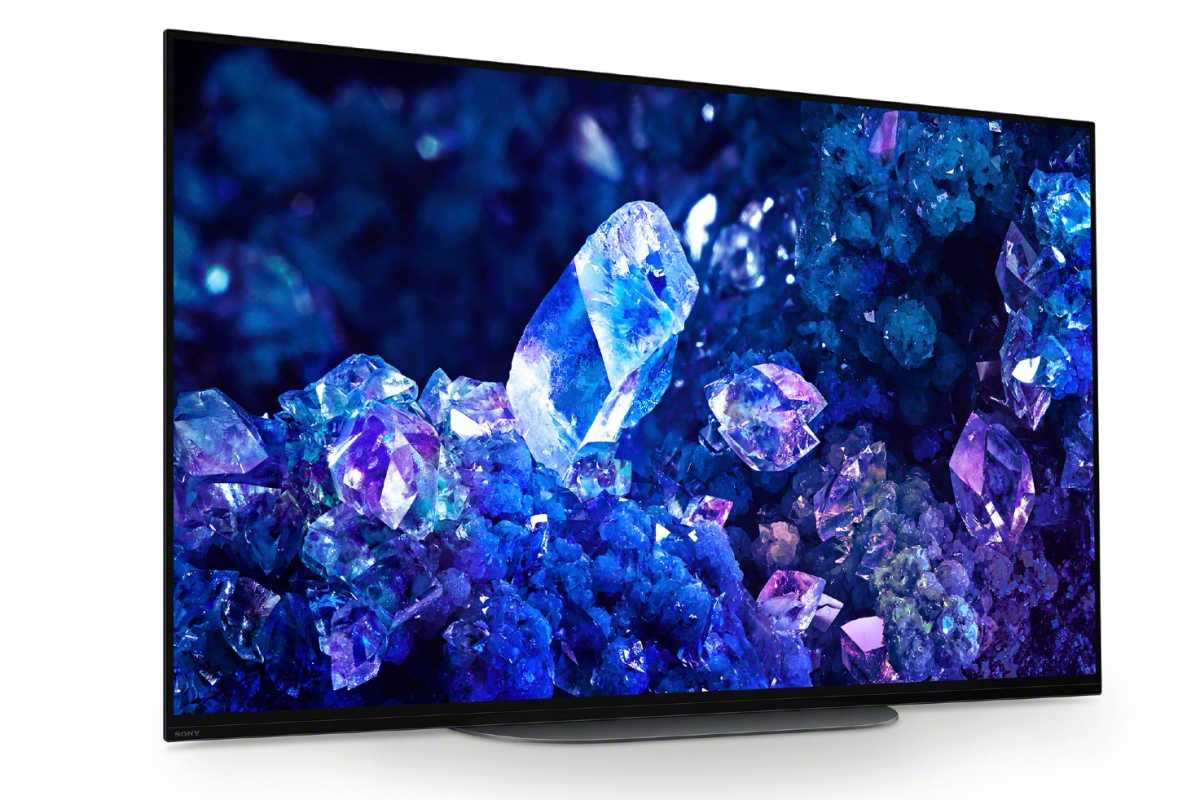 Sony
Sony OLED 
Sony's OLED range begins with the A75K and the older A80J.  Both come with that new Cognitive Processor XR silicon and boast XR OLED Contrast, for highly dynamic HDR.  
 
Being OLED they also enjoy Acoustic Surface Audio, which uses actuators mounted on the rear of the display to deliver stereo sound straight from the panel (it might sound weird but the system works extremely well). They're certified 'Perfect for Playstation' with Auto HDR tone mapping and Auto Genre picture mode, and have 4k 120fps support for liquid smooth gameplay. 
HDR provision is uniform, with Dolby Vision, HDR10 and HLG, plus Netflix Adaptive calibrated mode and IMAX Enhanced certification. The sets use XR OLED Motion interpolation technology, for more naturalistic sports presentation, so action looks super-smooth. 
The more expensive A90J improves on the A75K and A80J with better contrast, here dubbed XR OLED Contrast Pro. It also has more to offer on the audio front, with two subwoofers built in, whereas the A80J has just one. The A90J even comes with a posh brushed aluminium backlit remote zapper.  
If you want to go big (and who doesn't?), the A90J is available in a gargantuan 83in screen size. You may never want to go to the cinema again. Oddly, the newer A90K focuses on those who want a small OLED telly with just 42- and 48in sizes available.
Best for: Home Cinema and high-end gaming.  
Models to choose from: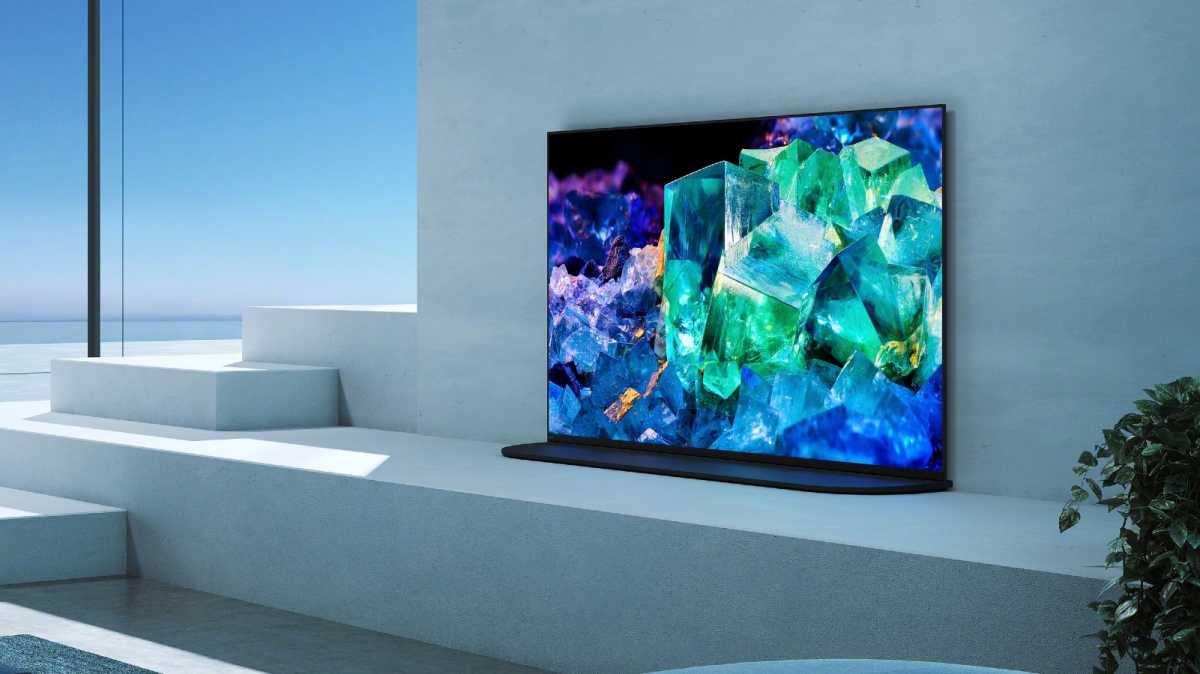 Sony
Sony QD-OLED 
While Sony doesn't use QD-OLED branding like Samsung's S95B, that's exactly what you're getting with the A95K. This Master Series flagship OLED is available in 55- and 65in screen sizes and represents the culmination of Sony's current TV technologies.
The next-gen panel boasts superior brightness to its regular OLED siblings, and has expanded colour volume and contrast, courtesy of XR Triluminos Max, said to deliver Sony's widest colour palette, and XR OLED Contrast Pro. 
Naturally, it calls upon the Cognitive Processor XR, and uses Acoustic Surface Audio+ so no soundbar is required. 
There are two options when it comes to the stand: you can configure it with the pedestal pouting forward, or with the stand orientated to the rear, for a cleaner 'look ma no hands' style. The A95K also ships with a Bravia Cam(era), which sits atop the glass for easy video calls.
Bravia Cam is a newly developed Sony camera able to recognise where you are sitting and optimises the picture and sound accordingly. It also supports gesture controls. 
Gaming support covers 4K 120fps, VRR (variable refresh rate) and ALLM (auto low latency mode). Like the rest of Sony's 2022 models, HFR support is restricted to just two HDMI inputs, which is a little frustrating. 
Best for: Home Cinema and high-end gaming.  
Models to choose from: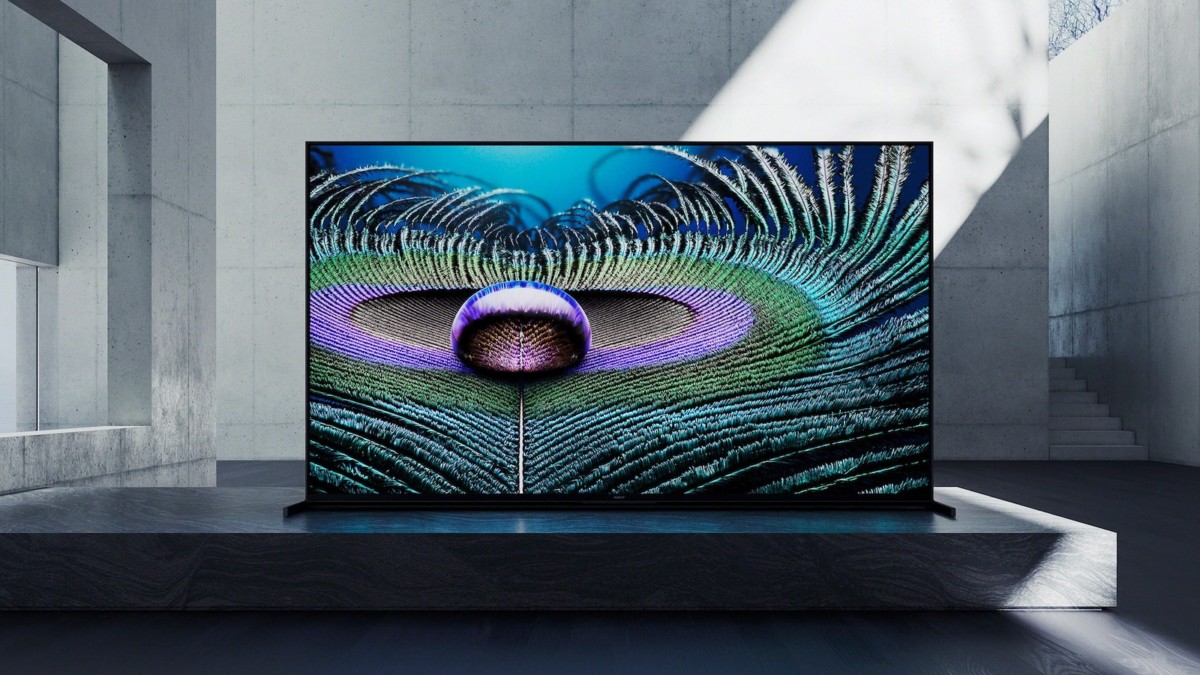 Sony
Sony LED Full Array 8K
If you're hankering to upgrade to an 8K screen, Sony offers two choices: the Master Series Z9J, which uses a Full Array LED backlighting system, and the Z9K which has a MiniLED backlight (below). 
Available in 75- and 85in screen sizes, the Z9J upgrades Sony's Cognitive processor to work with 8K sources (of which there are not many, unfortunately) and more significantly, upscale paltry HD and 4K.  
All the other niceties found down the Sony line are present here. Tick boxes are well and truly checked. 
Gaming support covers 4K 120fps, VRR and ALLM. Like the rest of Sony's 2022 models, HFR support is restricted to just two HDMI inputs. 
Best for: High-end home cinema, next-gen gaming and any room that can accompany it.   
Models to choose from:
Sony
Sony Mini LED 8K 
This big screen Master Series beauty is the best that Sony offers when it comes to 8K. Utilising thousands of densely packed LEDs for its XR Backlight Master Drive, it delivers superior black level control and high-impact HDR.  
The tech specs are first-rate as you might expect for this amount of money. There's an 8K iteration of the new Cognitive Processor XR, XR Contrast, XR Triluminos Pro wide colour, plus X wide Angle and X Anti-Reflective treatments. That's an awful lot of X-appeal! 
The Z9K also uses an inventive sound system that takes advantage of the physical frame of the set, placing four tweeters at the top and sides to generate directional audio.
All the other Sony refinements are onboard, including Google TV and Bravia Cam.   
Best for: Loft apartments, home theatre and next-gen gaming. 
Models to choose from: 
Where to buy Sony TVs
Buying a Sony TV from the official online store is an obvious move and you can also visit physical Sony Centres if you want to go and look at sets in real-life before buying.
However, there are plenty of other places to get your new Sony TV from and you might find cheaper prices. In the US, try looking on Amazon, BestBuy, Newegg,  Target,  Walmart, Costco and B&H. 
You can buy Sony TVs in the UK from the likes of Amazon, John Lewis, Laptops Direct, AO, Argos, Currys, Very, Box and more.
Not convinced by Sony? We have guides on the best Samsung TVs and best LG TVs as well as charts for the best TVs and best budget TVs.