At a glance
Expert's Rating
Pros
Dynamic Island is a game-changer
A full always-on display
48Mp camera & pixel binning truly enhance photography
Cons
No real battery life improvement
No fast charging
Much more expensive in the UK
Our Verdict
The iPhone 14 Pro is the perfect iPhone for most people, boasting useful upgrades over its predecessor including the Dynamic Island camera cut-out, Apple's first stab at always-on tech, and a vastly improved rear camera setup. Battery life still isn't perfect, and it's more expensive in the UK, but there's enough here to get people excited about 2022's Pro iPhone.
The iPhone 14 Pro is the iPhone that most people should this year. Not because it looks significantly different to its predecessor – in fact, on the surface, the two look near-identical – but because of the raft of upgrades on offer from Apple's Pro iPhone range this year, further separating them from the standard, cheaper iPhone 14 and iPhone 14 Plus.
With headline features including Apple's unique Dynamic Island, new always-on display functionality, the first 48Mp camera in an iPhone and Apple's top-end A16 Bionic chipset, Apple has its sights set comfortably on the high-end Android competition.
The question is, with a significant price hike (in the UK at least) does Apple's latest and greatest still offer good value for money?
Design & build
When you first look at the iPhone 14 Pro, it's hard to spot the differences between it and last year's iPhone 13 Pro – until you turn the display on, that is.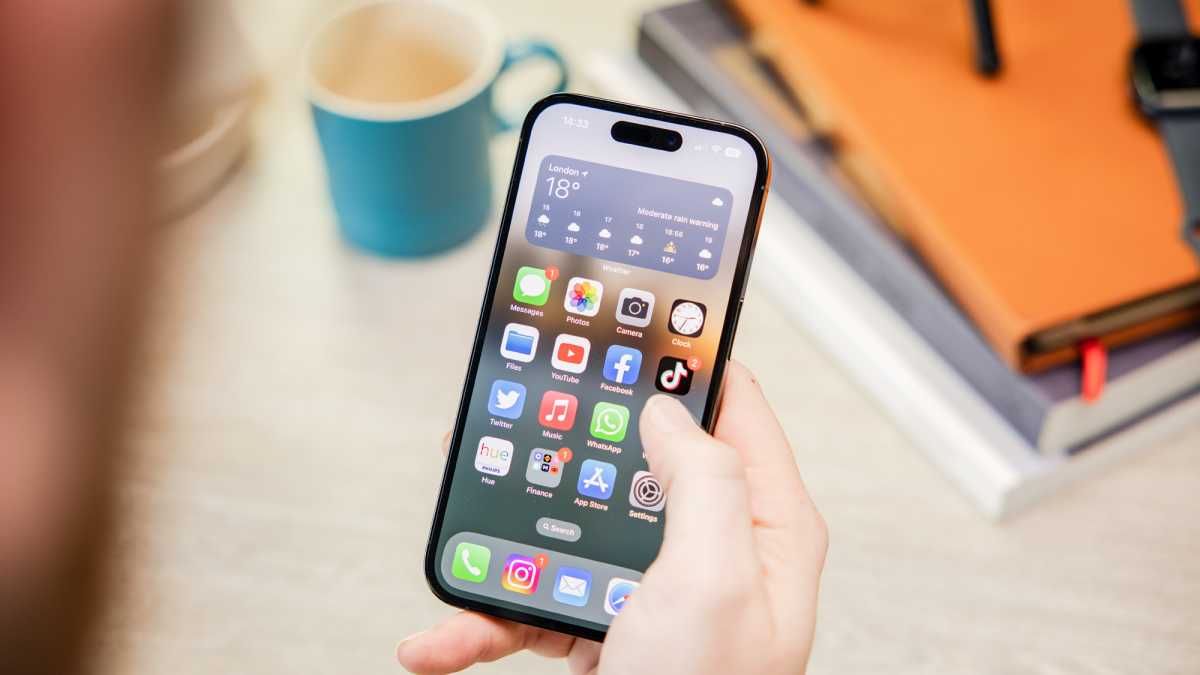 Dominik Tomaszewski / Foundry
Overall, the iPhone 14 Pro is near-identical to its predecessor – but that's no bad thing. Apple's industrial, angular design language and combination of a stainless steel frame and glass front and rear looks and feels premium, with new Space Black and Deep Purple finishes joining the Silver and Gold of last year's range.
While the brushed glass rear looks similar, sporting the same three-camera cut-out, the cameras themselves are a smidge thicker than on the 13 Pro – though that's no surprise with such an upgraded camera offering.
In fact, it's a similar story with the overall build. The iPhone 14 Pro is slightly taller and fatter this time around at 71.5 x 147.5 x 7.85mm and 206g respectively, though it's difficult to notice.
Dominik Tomaszewski / Foundry
The side button, volume controls and silence switch are all in the same spots, as are the microphone ports, speaker grilles and the Lightning port. Yes, another year passes without Apple making the jump to USB-C as it has with the iPad Air and iPad Pro, but rumours suggest that could finally change next year.
It's also still as dust and water-resistant as ever, boasting IP68 protection that should protect it from a dunk in the water.
The only notable change in the iPhone 14 Pro's design is the SIM tray, or lack of it. While it's still present on models sold in the UK, Europe and most regions, Apple has decided to go all-in on e-SIM technology in the US, where there's no SIM tray on models sold there. It certainly adds to Apple's clean aesthetic, but it'll be interesting to see how US consumers will react to the change. They'll have to transfer their phone number to eSIM upon set-up.
Display & audio
The iPhone 14 Pro sports Apple's 6.1in Super Retina XDR display that, while not noticeably higher resolution than its predecessor at 2556 x 1179, offers one huge upgrade. In fact, it's the biggest shift in Apple iconography since the iPhone X.
It all comes down to one big addition: the Dynamic Island. The oblong-shaped cut-out completely replaces the iconic Face ID notch, floating millimetres from the top of the display and, in spectacular Apple fashion, it does something no other smartphone camera cut-out on the market does right now; it changes shape.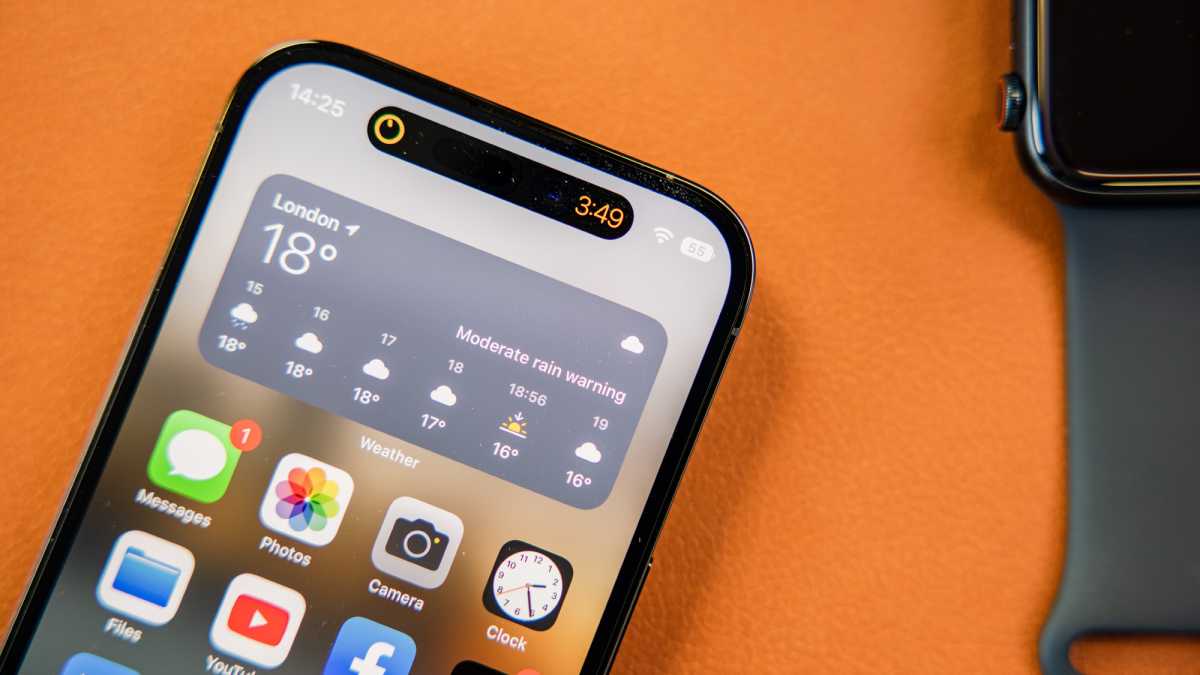 Dominik Tomaszewski / Foundry
The Dynamic Island cut-out not only changes shape but adds functionality depending on what's happening on-screen, seemingly expanding and shrinking at will. Of course, this is just a trick comprised of both hardware and software as the physical cut-out itself isn't changing, but it's seamless and just a bit magical.
Look a little closer and you'll see that the cut-out is actually comprised of an oblong cut-out, a circular cut-out, and then black active display pixels between them giving the illusion of a single cut-out. The Face ID tech hidden within has shrunk, and Apple managed to put the depth sensor behind the display to compact it further.
The end result is a camera cut-out that'll dynamically change shape and function depending on what you're doing and what app you're in, displaying a Face ID icon when scanning your face, ongoing timers, battery indicators for AirPods, music controls and more. You can also tap-and-hold the cut-out to access additional controls, allowing you to skip a song, answer a call or cancel a timer without leaving the app you're in. Tapping it once takes you to the app in question.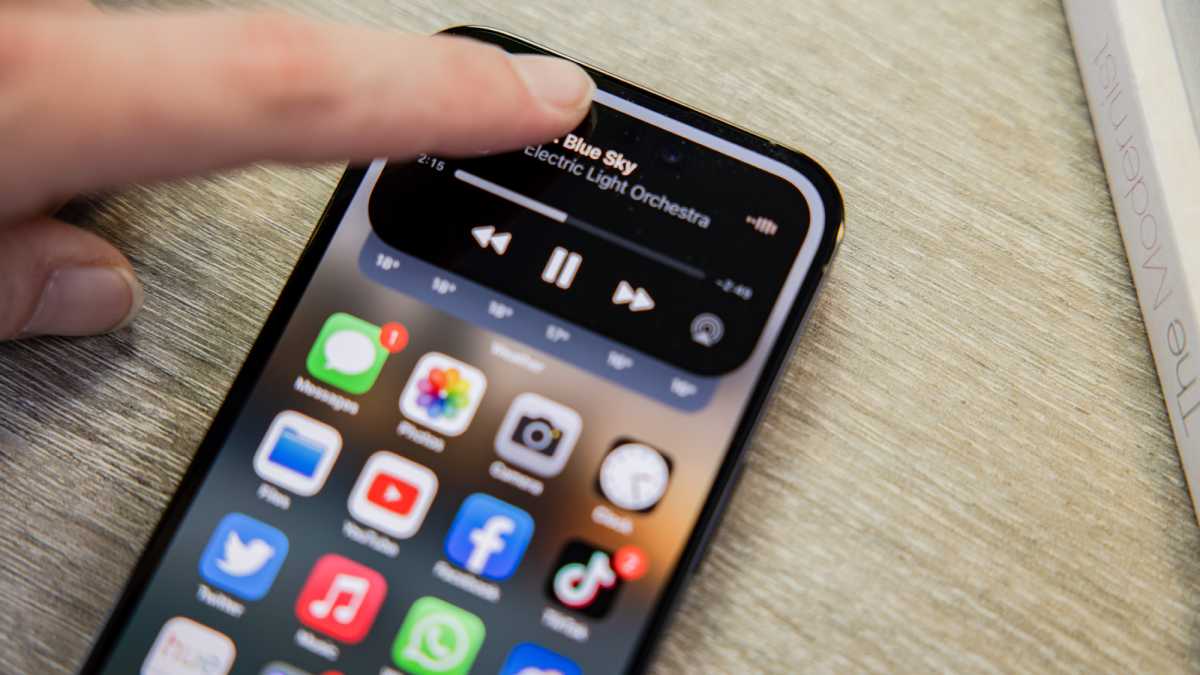 Dominik Tomaszewski / Foundry
Apple has taken something that's traditionally an annoyance and turned it into something new and genuinely useful.
It's not the only upgrade in the display department either; the ProMotion adaptive display technology has also been enhanced, now able to dynamically shift from 120Hz to as little as 1Hz. That allows you to enjoy the buttery-smooth 120Hz refresh rate when gaming and scrolling while not saving battery life when on a static screen, like the Home screen, where the refresh rate can drop.
The 1Hz refresh rate is a particularly useful addition as it allow the iPhone to have an always-on display tech for the first time ever. It might've taken a while to make an appearance, but it's safe to say that Apple has outdone most of the competition with its implementation.
Rather than simply displaying a black screen with basic time and notification information like most Android alternatives, you get the full iOS Lock Screen experience. The tech automatically activates when the iPhone goes to sleep, and while it does drain the display of most colour and brightness, you can still enjoy your wallpaper, see the current time, and access your widgets, notifications, and music controls at a glance.
It's a feature I didn't know I needed, but now I've used it, it'll be hard to use an iPhone without it (you can turn if off in settings, though).
The display is also incredibly bright, with Apple boasting a baseline brightness of 1000 nits, though that jumps up to an impressive 1600 nits when watching Dolby Vision HDR content and, when you're in direct sunlight, the display can boost to an eye-melting 2000 nits. I never struggled to see the iPhone's display in any lighting conditions, and I doubt anybody else will either.
When it comes to audio, expect the same stereo speaker setup as previous models, complete with support for Dolby Atmos spatial audio that gives shows like Stranger Things added depth – though you're still better off using a pair of headphones where you can.
Features & performance
Unlike the iPhone 14 and iPhone 14 Plus still rocking last year's A15 Bionic, the iPhone 14 Pro and its Pro Max sibling sport Apple's latest and greatest A16 Bionic. The 4nm chipset, down from 5nm of the A15 Bionic, offers not only a 10% boost to overall performance but better efficiency too, with Apple claiming both that it's 20% more efficient and that its efficiency cores use one-third the power of the unnamed Android competition.
As you might expect, that translates to blisteringly fast everyday use with not a hint of lag or stutter to be seen, even when playing AAA games like Genshin Impact with high graphical settings and scrolling through a media-heavy Twitter feed. It's not just everyday use either; the A16 Bionic allows you to edit Apple ProRes videos on the fly within the Photos app, allowing you to crop, add filters and trim the video with an export time of just seconds.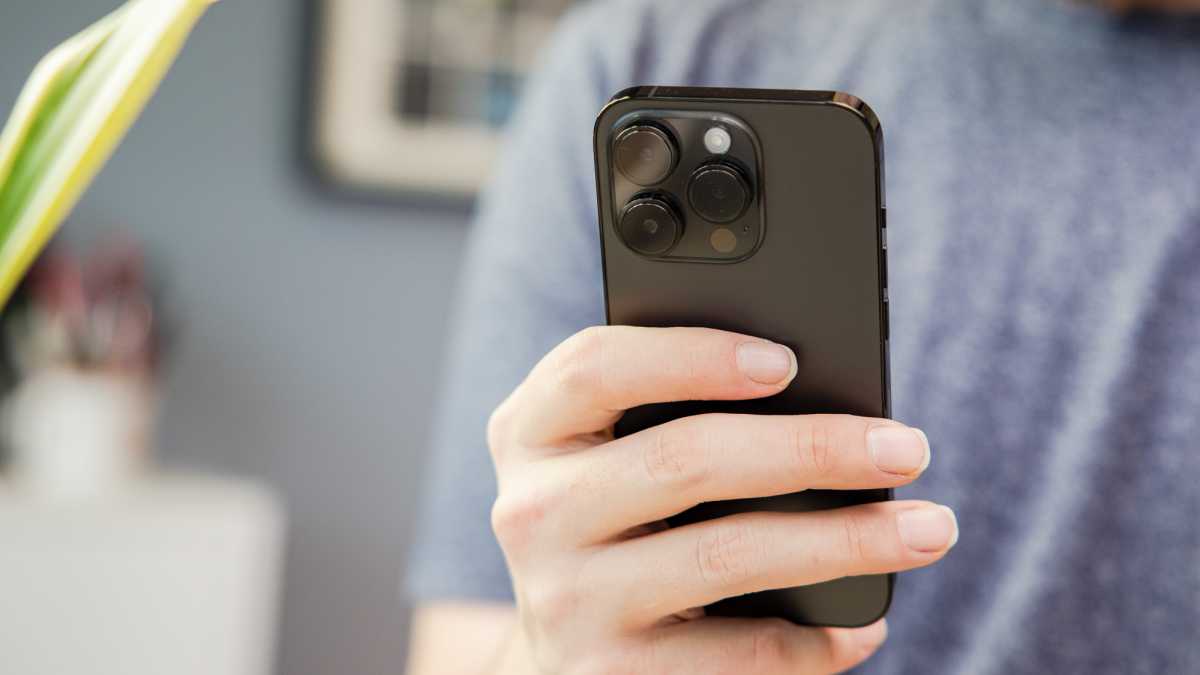 Dominik Tomaszewski / Foundry
That's largely mirrored in our benchmark results that see the iPhone 14 Pro not only beat the iPhone 13 Pro but the Android competition too – especially in the CPU department where Apple's gains over Qualcomm and MediaTek are most apparent.
Though some Android competitors get higher frame rates in GFXBench tests, that's due to the 60fps frame rate cap on the iOS app. Hopefully, that'll be updated soon, and we can re-run our tests for a more accurate graphical comparison.
That all said, the iPhone 14 Pro doesn't feel markedly faster than the likes of the Samsung Galaxy S22 Ultra in everyday use.
In terms of storage options, you've got four to choose from, ranging from 128GB all the way up to 1TB, though with such good integration with iCloud, it's hard to recommend the top-end model to anyone that doesn't shoot in ProRes and ProRAW.
When it comes to connectivity, there's 5G, Wi-Fi 6 with 2×2 MIMO support, Bluetooth 5.3 and NFC for payments with Apple Pay. It also sports Apple's proprietary U1 Ultra-Wideband chip to help you locate AirTags with precision finding.
Standard connectivity features aside, the iPhone 14 range is among the first in the world to offer built-in emergency satellite communications. They can connect to Globalstar's low-Earth orbit satellite fleet when in clear view of the sky, allowing you to get in contact with emergency services even when there's no cellular signal.
While you can't talk directly with EMS responders, the on-screen assistant asks you questions that'll help communicate your status. This information is beamed to satellites, which are connected to Apple's own relay station, who then contacts EMS on your behalf. The tech can also be used to send text messages in around 15 seconds, and you can also use it to update your Find My location if necessary.
It's not active just yet so I've not been able to test this for myself, though it'll be available to those in the US and Canada in November, and it'll hopefully roll out to other regions soon after.  
Dominik Tomaszewski / Foundry
Another new feature is car crash detection, allowing the iPhone to detect when you're in a car crash and, if necessary, contact first responders on your behalf. It's also available on the Apple Watch Series 8, with the two working together to verify that a crash has taken place, adding peace of mind for those that travel in rural areas.
Cameras & photography
Though the rear-facing camera setup may not look that different at a glance, all three of the iPhone 14 Pro's rear cameras have had upgrades.
The headline is undoubtedly the main camera, which has a 48Mp sensor for the first time in the iPhone's history.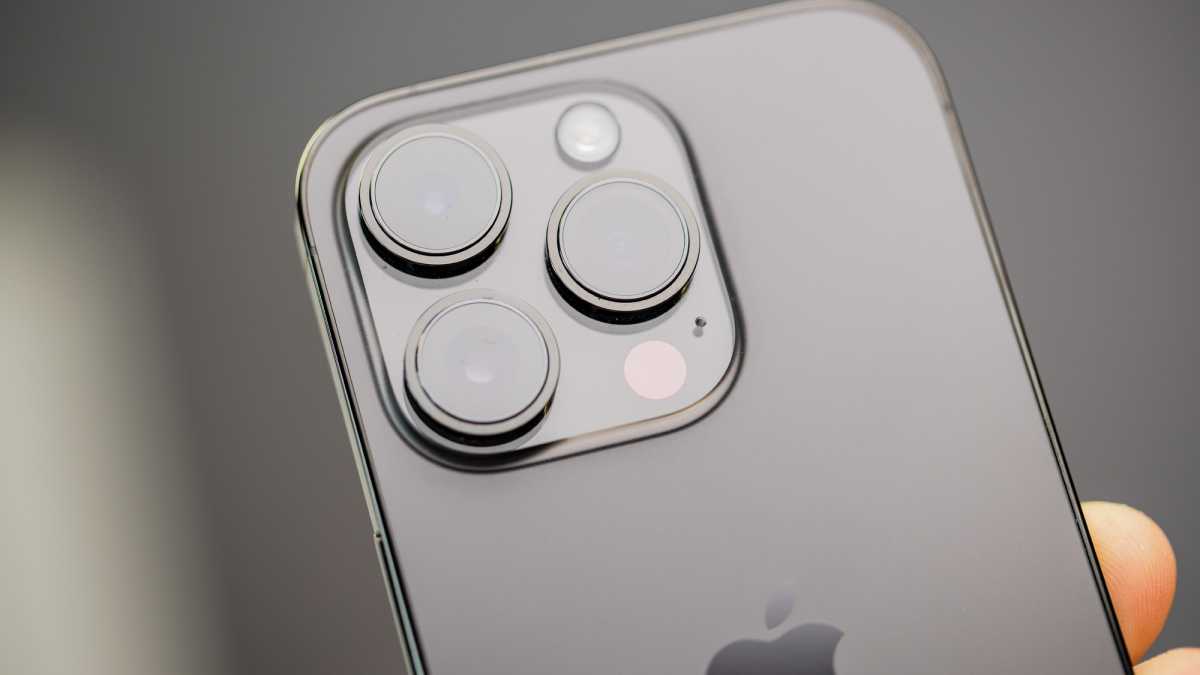 Dominik Tomaszewski / Foundry
Like Android phones with high-res sensors, Apple uses a 4-in-1 'pixel-binning' technique that combines four pixels into one larger pixel to improve low-light performance and detail in a final 12Mp image. As you might expect, these images truly excel, with great colour accuracy, lightning-fast focus and impressive detail, so much so that I could see individual hairs on a photo of my cat Alan.
You've also got the choice of shooting a full resolution 48Mp RAW uncompressed image with more data, allowing you to tweak lighting, contrast and boost shadows in software like Lightroom or the Photos app. This is handy as, despite improvements with Apple's new Photonic Engine image processing tech, the iPhone still tends to crunch shadows down a little too much in automatically processed images.
It's night-time photography where the 48Mp f/1.8 snapper truly excels, with Apple's 64% larger sensor and 2.44-micron pixel size claiming 2x improvement to low-light photography largely ring true to life.
The iPhone 14 Pro is able to capture subtle details even in low-light conditions, and rather than trying to artificially brighten the scene like some (not all) Android competitors do, it provides a quite true-to-life look. Particularly bright spots still blow out but low-light images certainly look better this time around.
Take a look at some sample shots taken with the iPhone 14 Pro below:
Though the ultra-wide lens remains at 12Mp, the larger sensor and f/2.2 aperture allow for improved low-light shots. Apple claims it's 2x more effective in low-light conditions, though it's still far from what the main lens can capture. The 120-degree ultra-wide angle is ideal for capturing outdoors landscapes, with Apple's improved anti-distortion tech stopping subjects near the edge from curving.
The larger 1.4-micron pixels and a new lens also improve macro photography, which while still fairly niche, has the ability to take impressively detailed shots from up to 2cm away.
Though the 12Mp 3x telephoto zoom is still lacklustre compared to the Samsung Galaxy S22 Ultra's 10x optical zoom, the tight angle is ideal for portrait photography and, like the rest of the range, offers a slight boost in low-light performance – though it's not quite as detailed as the other lenses.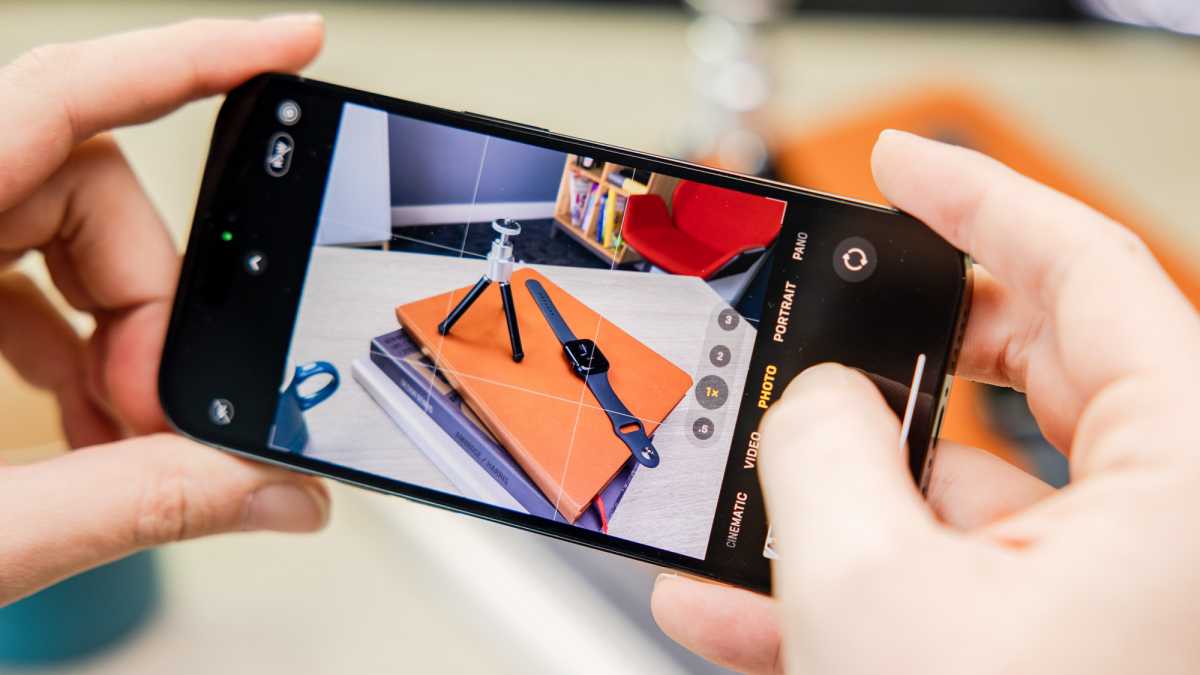 Dominik Tomaszewski / Foundry
The 48Mp sensor also allows Apple to do camera trickery – essentially crop into the central 12Mp image – to provide a 2x zoom, giving you four levels of zoom with only three cameras for more versatility.
Video performance has also had a boost, with the iPhone 14 Pro now able to shoot at 4K@60fps in Dolby Vision HDR, up from 30fps on the previous-gen, and there's also a new Action Mode that further helps reduce the shake from the camera, though results are often noisier than standard videos even in good light.  
Battery life
While most manufacturers proudly tout the battery capacity of smartphones as one of their main features, the same can't be said for Apple. The company never publicly discloses the battery capacity in milliampere hours (mAh), instead giving vague battery life promises linked to video playback.
To that end, Apple claims the iPhone 14 Pro can muster 23 hours of video playback on a single charge, up from 22 hours on the 13 Pro. The single-hour increase suggests the battery isn't any bigger than last year, and the extra efficiency comes instead from the 4nm A16 Bionic chipset and the new adaptive display tech.
Should you actually expect to get 23 hours of video playback from a single charge? Not in my experience. In the first few days of using the iPhone 14 Pro, I found it barely lasted a single day – though I put that down to background indexing of data, a process that takes place when you set up or restore a new iPhone.
It improved as the days went on, managing enough juice for TikTok scrolling, texting, gaming and the occasional chat on the phone without hitting 10% before bed, but it's certainly not close to Apple's claimed 23 hours.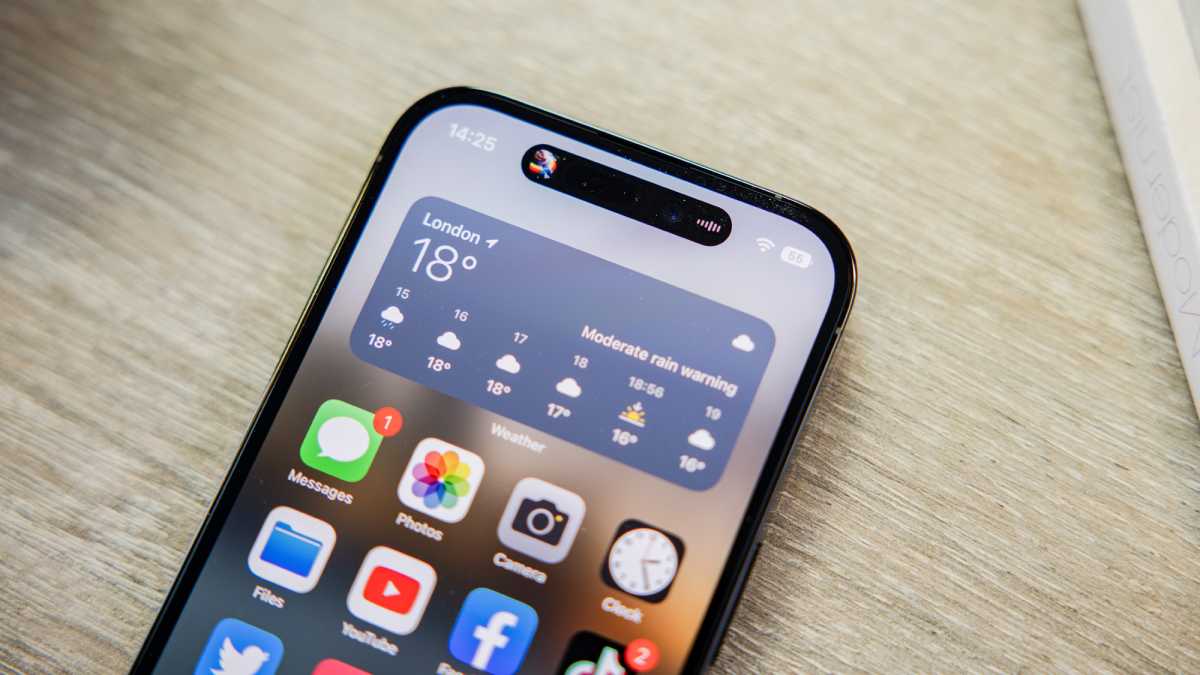 Dominik Tomaszewski / Foundry
In my experience, I tend to get around 10 hours of use (split between screen on and screen off) per day before the battery indicator turns red and angry and I search frantically for a charger.
That's fine for most people, and lighter use could probably extend it to two days without a charge, but if you're a bit of a battery hog like I am, either Apple's iPhone 14 Plus or iPhone 14 Pro Max should better serve your battery needs.
Though there's no official boost in charge speeds for the iPhone 14 Pro, but it can support up to 25W according to unofficial reports. In my experience, the phone can charge to 29% in 15 minutes, 57% in 30 minutes, and a fully in just over an hour using a (majorly overpowered) 66W charging brick, though without a charger in the box, you'll have to source that separately. It's still miles behind Android's fast-charging capabilities, but with decent battery life overall, it's arguably not much of an issue.
There's also 7.5W Qi wireless charging and faster 15W MagSafe charging, but there's no sign of reverse wireless charging to charge other devices with the iPhone.
Software & updates
The iPhone 14 Pro runs iOS 16, but so does just about every iPhone from the iPhone 8 onwards.
Software support and longevity are key to Apple's success, and while the Android competition is catching up with multi-year OS upgrade promises, no one comes close to Apple's regimented update system. All supported iPhones get the big upgrades on the same day, not months apart like with Android releases, and phones will get updates for much longer than the Android competition.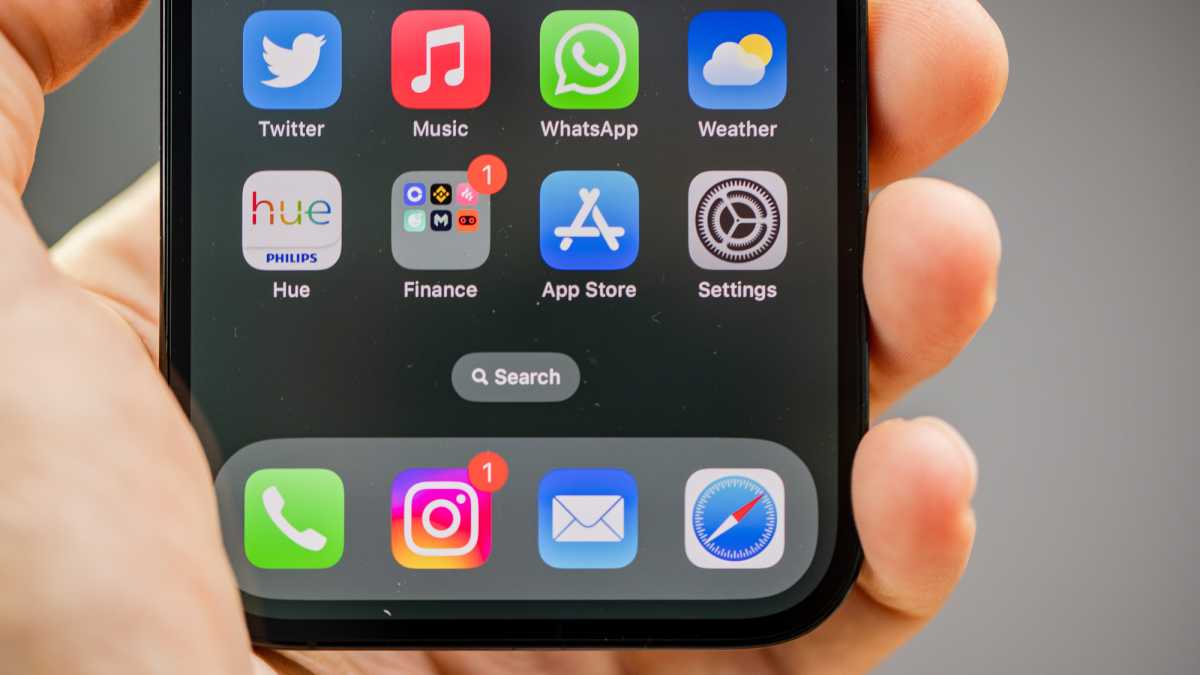 Dominik Tomaszewski / Foundry
iOS 16 introduces a handful of cool new features to the iPhone experience. The biggest and most immediately noticeable is the customisable Lock Screen, which allows you to use interactive wallpapers and widgets, customise the layout and change the time's font. Coupled with a new notification system that brings in notifications from the bottom of the screen, it feels like a huge refresh for iOS.
That's not all; iOS 16 also has handy features like the ability to edit and unsend texts in iMessage, the ability to cut out subjects from photos with a single tap, haptic keyboard feedback, and more. There are also a bunch of software features specific to the Dynamic Island of the iPhone 14 Pro.
Ultimately, for iOS, it's business as usual, but there may be a slight learning curve if you're coming over from Android.
Pricing & availability
The iPhone 14 Pro costs from $999 in the US, matching the price of last year's iPhone 13 Pro. The impressive upgrades make it a very tempting option.
In the UK, however, it's a little harder to recommend at £1,099, a massive £150 increase on last year's model, the same price as last year's top-end iPhone 13 Pro Max.
If you're tempted, the iPhone 14 Pro is available to buy from the Apple Store along with third-party retailers like Best Buy in the US and Amazon in the UK. We cover where to buy the iPhone 14 range in more detail separately, including contract options, if you're interested.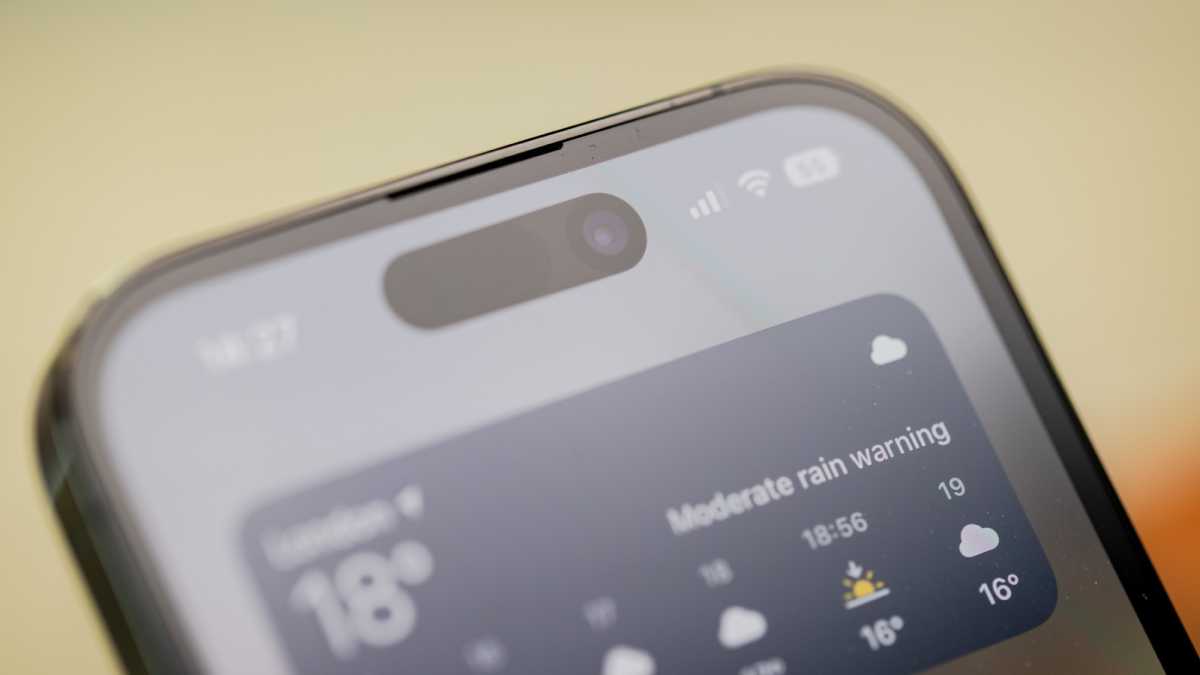 Dominik Tomaszewski / Foundry
Verdict
The iPhone 14 Pro is undoubtedly the best iPhone you can buy, with significant upgrades over the iPhone 13 Pro.
The Dynamic Island is the standout feature, bringing what is usually a frustration of modern smartphones and making it a part of the core experience with an impressive blend of hardware and software. The always-on display is another nice touch, providing full access to your wallpaper, widgets and notifications at any time. It'll certainly make it difficult to go back to an iPhone without it.
The 48Mp rear camera sensor is another solid addition to this year's Pro line-up, not only offering significant gains in low-light environments but added detail and even 2x zoom without a dedicated 2x telephoto lens. The 3x telephoto has you covered for closer shots, but Android alternatives can zoom further.
Throw in additional features like the top-end A16 Bionic, car crash detection, satellite connectivity and a truly premium build and you've got one of the most capable smartphones available. The only reasons to go for the Pro Max are the larger display and longer battery life, as the latter can still leave something to be desired on the regular 14 Pro despite year-on-year improvements.
Specs
147.5 x 71.5 x 7.85mm
206g
6.1in Super Retina XDR display (2556 x 1179)
Dynamic Island
Always-on display
IP68 dust and water resistance
A16 Bionic
Main 48Mp camera, f/1.78, sensor-shift OIS
120-degree 12Mp ultrawide, f/2.2
12Mp 2x telephoto, f/2.8
4K@60fps with Dolby Vision HDR support
12Mp f/1.9 front-facing camera with autofocus
Bluetooth 4.3
Wi-Fi 6 with 2xMIMO
NFC
Satellite connectivity
Car Crash detection